Statement Formatting
Organization is the key to a well-written program. Good programming style helps present the detail and logic of your program in a clear and easy-to-un stand manner.
Programming style and aesthetics are related. A well-written program pleasing to look at, read, and understand. Your goal in formatting a program is to make it look neat, well-organized, and beautiful.
Formatting the Body of the Program
The sentence is a basic unit of writing. A sentence ends with a terminator question mark, exclamation point, or period. In C, the basic coding unit is statement. C statements do not have terminators, like sentences; rather. they separated from each other by semicolons ( ; ).
Well laid-out programs allow the programmer to quickly and easily pick the statement within the program. Running the code together, as shown in following example, hurts readability and clarity:
/* Poor programming practice */
biggest=-l;first=0;count=57;init_key_words();
if(debug)open_log_files();table_size=parse_size+lex_size;
How many statements are in this program fragment? It's hard to tell. programmer has tried to compact the program by putting as much on each line possible. It's much like the old limerick:
There was a young man from Iran
Whose verses just would not quite scan.
I like to put as many words on the last line as I possibly can.
It's easier to pick out the statements when there is only one statement per line
/* Better programming practice (still needs work) */
Logic and Indentation
Over the years many people have tried to develop a way to create a document makes the logic and execution flow of a program easy to understand.
Flowcharts were an early attempt. They presented the program visually using special symbols to denote things like branch statements, input/output, termination. See : A small flow card on the following page shows a sample flowchart. charts were excellent for small programs, but for programs of nominal size grew too big and bulky. (I remember seeing one that consisted of hundred boxes spread across a 6x5 foot grid of 11x13 inch paper. It took up whole wall of a conference room. Although it was impressive, no one could understand the whole thing.)
Another problem with early flowcharts was that at the time very I computers could do graphics. (Most couldn't even do lowercase text.) result, all flow charts had to be done by hand, and redone if the program changed.
When ALGOL and other structured languages were invented, people discovered that the could use indentation to represent levels of control This is used in C.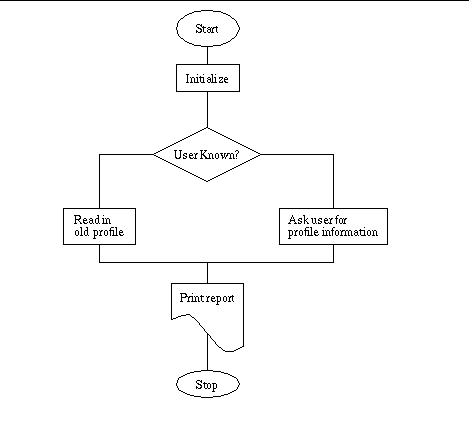 : A small flow card
if (balance[index] == EOF_MARKER)
In this program fragment, you can easily see that the body of the while contains both the if and the ++index statement. The statement count = -1 is indented an extra level, giving a visual clue that it is part of the if .
There are several indentation styles, but they all indent one level for each level of logic.
Indentation styles
There are many different styles of indentation, and a vast religious war being waged in the programming community as to which is best. I won't t take sides, but I will present the advantages and disadvantages of each style (Incidentally, the style used throughout this book is the Short Form, chosen only because I'm used to it.)
How much to indent
In this book I indent four spaces for each logic level. Why four? Here are some examples of various indentations.
Two Spaces:
printf("You owe %d dollars\n", total);
all_totals = all_totals + total;
Four Spaces:
printf("You owe %d dollars\n", total);
all_totals = all_totals + total;
Eight Spaces:
printf("You owe %d dollars\n", total);
all_totals = all_totals + total;
The advantage of a smaller indent is that you don't run into the right margin as quickly. The disadvantage is that it's hard to tell the various levels apart.
Larger indents are easier to read, but larger indents mean that you run out of room faster.
Several researchers have studied this problem in detail. They started with the same program and indented it using different indent sizes. They then gave the various flavors of the program to a set of graduate students and told them each to enhance it by adding some additional commands. The students had never seen the program before. The researchers measured time amount of time it took each student to understand and fix the program. As a result of this and other studies like it, they concluded that four spaces is the ideal indentation.